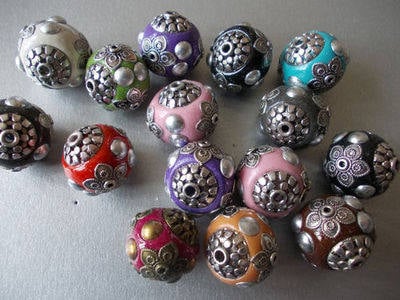 Handmade Indonesian ball lucky charm
This beautifully hand crafted, little indoneasian ball has been charmed with a very special purpose of all round luck.
The idea is that you carry it with you - be it in your pocket, purse, handbag or even in a compartment of your car, the choice is yours.

It is charmed to bring improved luck to all aspect of your life but obviously, where it is placed can prove a great significance.
For instance, I did have one of these in my hospital bed very recently. For those of you that know me personally, you'll remember that I recently spent six months in the hospital (well, four different ones really) after I was inloved in a tragic accident that was caused by a drunken driver.
My sister brought one of these to my ward along with other items that she had prepared and spread all around the room and when my neighbour came to see me (who believed all my money came from accountancey, by the way) it was so obvious that I thought I might as well just tell her. When I did, she admitted that she had known for some time that I am a witch but was waiting for me to bring it up.
Anyway, I'm clearly waffling now so I'll stop it hehe the doctors said that it was an absolute miracle that I even lived through the first night never mind all together and that I even made it in to a wheelchair and then on to my feet. Perhaps they've never come across a true coven before. Anyway, obviously, there was a lot of casting from family and friends and amethysts and Dead Sea Salt and other crystals provided as well but I do feel that the lucky charm that my sister placed in my bed with me had a hand in it too.
They are beautifully crafted, little balls that are 2cm round. In fact, you could even have it fixed to a charm bracelet or necklace if you'd like as they are very pretty. If you'd like to request a particular colour when you buy one, please just feel free to ask me and I'll do my best for you.