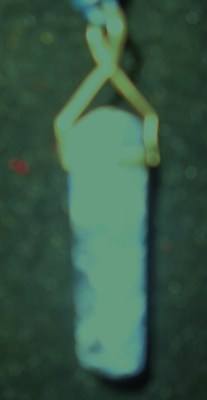 Communication Wand Amulet
Charmed amulets are now available and cost £25 each inclusive of postage to anywhere in the world. They are crystals set on silver chains and come gift boxed with some of the dead sea salts used during the spell casting process for the purpose of recharging them. Full instructions of how to wear and recharge your amulet are also included.
Sorry for the poor product image. It was very tricky to catch with my camera but this stone is beautiful - very dark blue with a white vein. It is Sodalite. Sodalite is known to help you speak the truth and say what is on your mind, thus increasing the power of the communication spell that is cast on it.